Signal Detection and Signal Evaluation with EVDAS
EudraVigilance-based Signal Management – EViSiMa®
The go-live of the new EudraVigilance system (22. Nov. 2017) posed several new and changed duties regarding pharmacovigilance (PV) activities and especially Signal Management to EU Marketing Authorisation Holders (MAHs). Though the obligation for monitoring data included in the EudraVigilance database was readily introduced by the Pharma Package 2010, functionalities to allow this monitoring have been first publicly addressed by the EMA in 2017. In order to support MAHs in implementing the new PV obligations, Dr. Ebeling & Assoc. GmbH established a service for performing high-quality EudraVigilance-based Signal Management (= EViSiMa®).
EViSiMa® – Our Concept
Dr. Ebeling & Assoc GmbH provides you with a systematic and flexible system to integrate the information from EVDAS into your signal management process and thereby meet the legal requirement!
EViSiMa® is an approach to comply with the MAH's duties regarding Signal Management in EudraVigilance in a company-tailored way. At the same time it relies on an API-specific analysis of respective data, which allows for a synergistic generation of results for generic substances of multiple MAHs. Therefore, EViSiMa® is a very cost- and time-effective service for MAHs of generics, but which also meets all standards in order to be used in context of innovative medicines.
We implement EViSiMa® into your Signal Management System for your medicinal products in line with GVP Module IX "Signal Management (Rev 1)" to ensure compliance with current legal obligations.
Our structured and synergistic approach to understand the benefit-risk profile of a product allows cost-effective and efficient resource allocation.
We provide modular systems to support MAHs in managing EVDAS-related challenges
A systematic approach performed by trained experts working with detailed SOPs in a QA controlled environment
High efficiency through a standardised method
Our special signal management system EViSiMa® is regularly audited by PV and QM experts
The results are documented and summarised in EViSiMa® reports
EViSiMa® for the further evaluation of validated signals: EViSiMa® VS
Meet legal requirements by using the EVDAS as an additional source of information to further evaluate validated signals detected via other sources than EVDAS and integrate the guideline on signal management into your daily operations!
EViSiMa® VS cover the aspect of EVDAS-based signal evaluation for validated signals that derive from other signal detection actions than EVDAS (i.e. literature, PSUR, spontaneous case reports, etc.) and uses the datasets from EudraVigilance/EVDAS for:
Evaluation of all validated signals present in the current signal/action list
Evaluation of signals identified by any signal management system
Evaluation of signals in preparation of PSURs
Evaluation of signals based on your individual needs
EViSiMa® VS can also be added to our established CoBRA® signal management system, developed by Dr. Ebeling & Assoc GmbH. Thereby the EViSiMa® VS process is integrated in the regular CoBRA® process and newly identified signals are immediately further evaluated with the help of the information in EVDAS.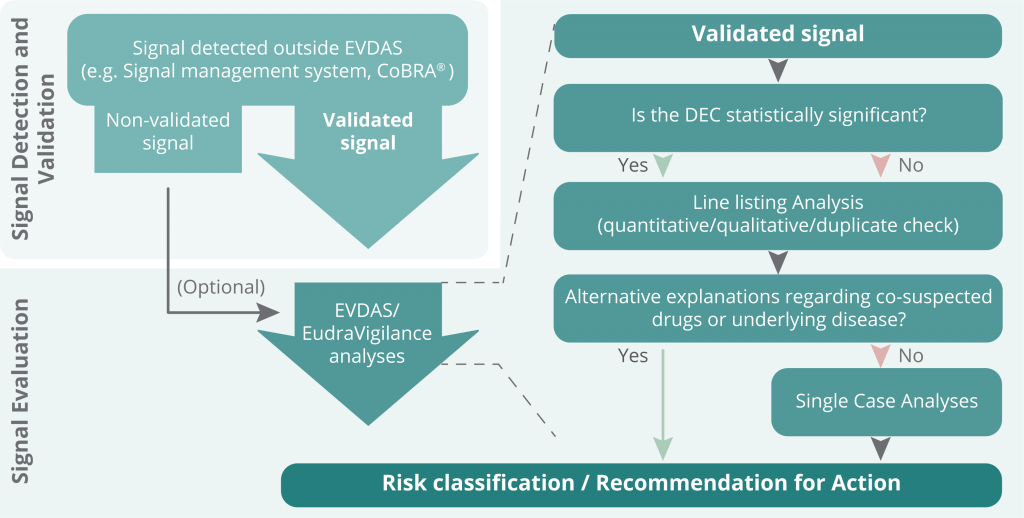 EViSiMa® VS proposes a systematic approach by providing a detailed Line listing analysis that allows a targeted selection of single cases (including narrative) resulting in a reduction of workload associated with the single case analyses.
All validated signals with the recommended action "close monitoring" that were previously detected via CoBRA® (or other signal management system) and evaluated using EViSiMa® will be regularly monitored for new information and an update of the assessment can be performed, if applicable.
EViSiMa® VS supports the MAHs to be compliant with the obligations defined in PV legislation and regulation:
An intelligent concept for analysis of EVDAS data through focused ICSR evaluation strategy
Easy integration into existing signal management processes
Quality assurance measures (regular audits by staring committee, SOPs, PSMF paragraphs, experienced employees, regular training)
Streamlined approach including:

Statistical outcome of EVDAS
Pre-validation phase: line listing analysis to exclude low quality data and target ICSRs to be further analysed
Systematic approach for single case analysis
Review of reports by PV experts

Reduced time and cost expenditure
EViSiMa® for signal detection in EVDAS: EViSiMa® Core
Meet legal requirements for signal detection regarding active substances included in the EVDAS "pilot list" and integrate the guideline on signal management into your daily operations!
EViSiMa® Core uses EVDAS as a primary data source to identify signals following a comprehensive pre-validation step.
Our process allows a dramatic reduction of the workload associated with single case analyses by implementing a pre-validation phase to priorities single cases for detailed analysis (incl. narratives). The consistent and transparent process ensures that all reporting and quality assurance requirements according to the GVP Module IX are met.
EViSiMa® Core provides:
Selection of significant DECs based on a defined formula and scientific judgement and using statistics from EVDAS
Signal validation on case analysis following a systematic approach
Specific criteria for selecting signals of disproportionate reporting (SDRs)
Age-group specific and/or region-specific analysis
Pre-validation via PRAC/CA recommendation check, comparison with SmPC of the originator/ or reference products quantitative and qualitative analysis of the line listing and extended literature search (if applicable)
Summary of detailed pre-validation, single case analyses and recommendation for further actions for selected SDRs in a structured "EViSiMa® Core Report", reviewed by experts
Continuously optimised
Summary
Our two main processes, EViSiMa® Core and EViSiMa® VS, were developed to fulfil all requirements concerning signal detection in EVDAS and signal evaluation with the help of EVDAS, respectively.
The demands to use EVDAS as part of your signal management system result from the following regulatory and legal requirements, among others.
According to EMA/396720/2018 (Recording by marketing authorization holders of information suspected adverse reactions held in EudraVigilance – Note for Clarification), the use of EVDAS as a tool to further evaluate validated signals that were detected through sources other than EVDAS is mandatory
The Commission Implementing Regulation (EU) No 520/2012 requests MAHs to continuously monitor the data in the EudraVigilance database including EVDAS
During a pilot period, which started on 22 February 2018 and which is extended until the end of December 2021, only MAHs which have an active substance included in the EVDAS "pilot list" are affected
All other MAH also have access to the information in EudraVigilance / EVDAS and should integrate them into their own signal management system.
The Explanatory Note to GVP Module VII demand that the data from EudraVigilance are considered for the evaluation of signals as part of a PSUR preparation
We support your pharmacovigilance activities in order to detect and evaluate signals and compile adequate assessments of the benefit-risk balance for your APIs!
Please do not hesitate to contact us for further information or an individual proposal: EViSiMa@ebeling-assoc.com