Signal Management and
Continuous-Benefit Risk Assessment – CoBRA®
According to the EU Directive 2001/83/EU, the "Guideline on Good Pharmacovigilance Practices" (GVP), Module IX "Signal Management", and 21 CFR 314.80, the continuous benefit-risk assessment including signal detection – as outlined in our CoBRA® concept – forms a key element for compliance of MAHs'/sponsors' PV duties with obligations set out in EU and US legislation. Signal detection is an ongoing process. In order to fulfil the criteria set out in applicable guidelines it is essential to provide a continuous assessment of the API-related benefit-risk profile and to track possible changes. The documentation of these activities may be requested by Competent/Regulatory Authorities (CAs) at any time which necessitates a regular, well documented and quality-controlled process. For products where no PSUR is produced, the robustness of ongoing safety evaluation and its tracking will be even more important.
Our Concept
With our quality controlled CoBRA® concept we are able to perform signal detection and continuous benefit-risk assessment as follows: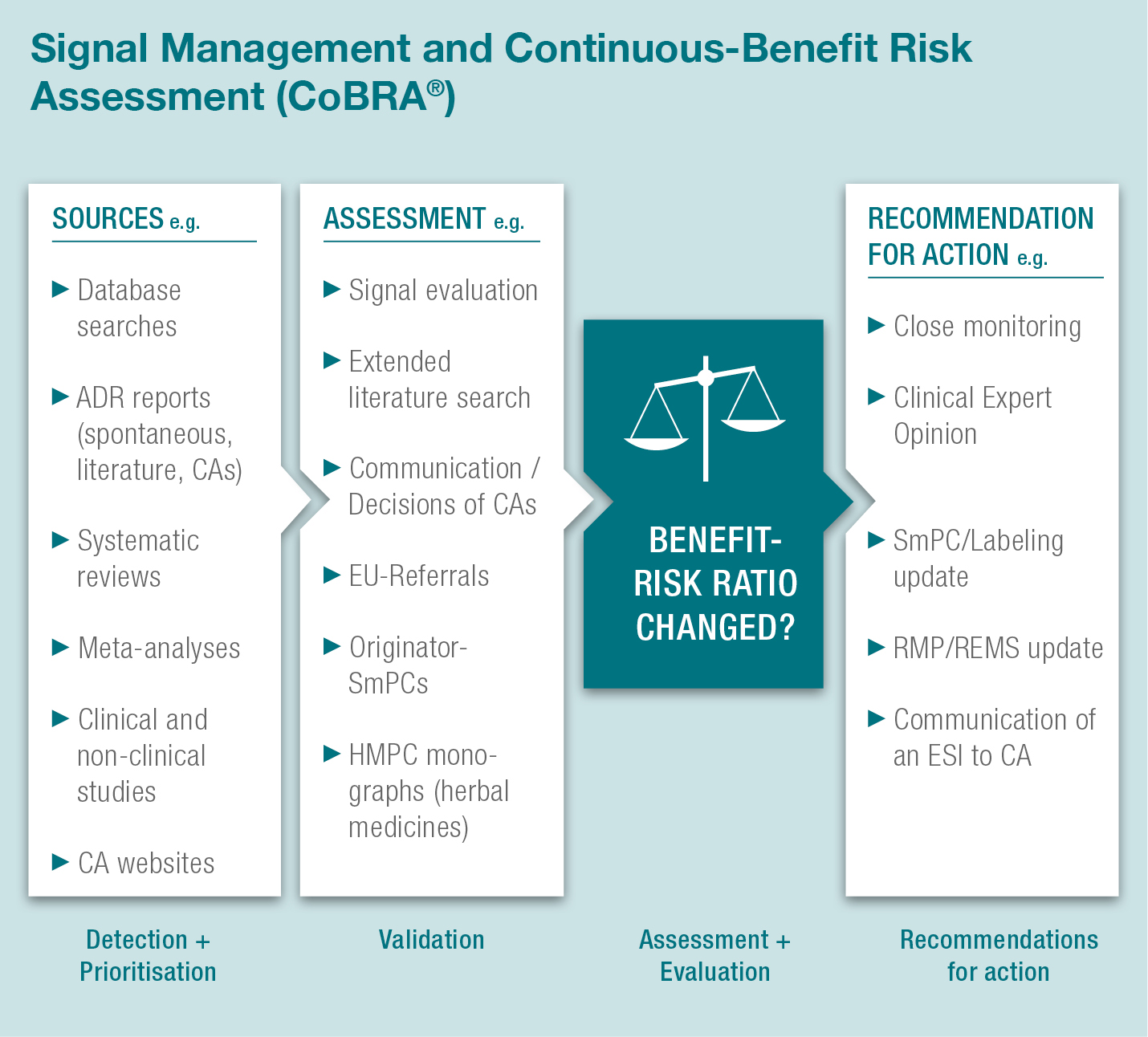 This coordination of signal detection and CoBRA® measures builds a sound basis for proactive safety monitoring and creates a robust formal procedure for supervision of drug safety. Potential signals arising from weekly literature search and spontaneous case reports are documented in the CoBRA® Report which is a clearly designed tool providing drug-safety oversight.
When a signal is assessed as a potential or identified risk safety measures such as close monitoring, SmPC/labeling updates, RMP/REMS updates or Clinical Expert Opinion (CEO) compilation are recommended.
Any potential significant changes to the benefit-risk ratio of a product have to be reported to the Competent/Regulatory Authorities as Emerging Safety Issues (ESIs), along with underlying documentation which is provided by our CoBRA® Report.
Our structured and synergistic approach ensures cost-effective resource allocation, since CoBRA® results may also be used for PSUR/PBRER section "Signal and Risk Evaluation" and the RMP, if applicable.
We offer CoBRA® on an individual basis or  within the BAH CoBRA® project. The BAH CoBRA® project has been audited successfully.
Please do not hesitate to contact us for an individual offer.
Signal Management for US Sponsors of Generic Drugs
In the US, 21 CFR 314.80 states all sponsors shall "promptly review all adverse drug experience information obtained or otherwise received from any source, foreign or domestic, including information derived from commercial marketing experience, postmarketing clinical investigations, post-marketing epidemiological/surveillance studies, reports in the scientific literature, and unpublished scientific papers."
The most important element of sponsor PV duties is continuous monitoring, recording, and assessment of new safety-relevant information and continuous notification of FDA, partners, or originators about any changes of a product's benefit-risk ratio.
Within our CoBRA® project, we collect and assess safety information with respect to predefined reference information, for a company-specific product, or to an API, which allows us to provide the same coherent results to multiple sponsors, thereby reducing their individual workload. The advantage for sponsors of generics is striking since they are obliged to monitor the same safety-relevant data as originators and to keep the integrity of labels regarding the completeness of safety information.